Sheridan Dance Academy Staff
---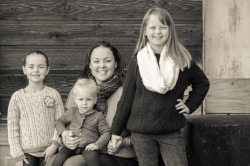 Mariah Sheridan Runions
Owner/Director

Mariah grew up dancing at Danette's School of Dance, in Campbell River, BC.
She studied Ballet, Jazz, Tap, and Musical Theatre, before going on to study Theatre at Capilano University in North Vancouver.
In 2003 Mariah began teaching dance in Fernie BC, before opening her own studio there in 2005.
In 2007 Mariah and her husband re-located to Powell River, and in 2008 Sheridan Dance Academy opened.
Mariah now has three daughters, and focuses to balance her time between, family and her love of running her business.
Mariah teaches Ballet, Jazz, Tap, AcroDance, Creative Movement, Parent & Tot Classes, as well as overseeing the Performance and Exam Programs at Sheridan Dance Academy.